Description
The Sun Shield Tee is silky soft, lightweight stretch jersey with a UPF-50 rating that blocks 98% of the sun's harmful UV rays. How does it do this you ask? It's the mechanical quality and weave of the yarn so the protection won't diminish with washing. Super comfortable indoors and out and perfect for all sorts of applications beyond sun protection too: skin conditions, wound care, topical medications and also works great as an anti-anxiety calming aid that can be worn all day.
These tees really reduce heat absorption! Designed by our friends at Gold Paw (who make our best selling Cozy Fleece Sweaters) these tees were put to the test on their black lab, Luke. Using an infrared thermometer gun they found his fur was more than 40 degrees cooler under the Sun Shield Tee than without. It's wearable shade! Want extra cooling? Get it wet and your doxie can enjoy the evaporative cooling effect!
Recommended For: Sun protection, regulating body temperature, indoor wear, outdoor wear, protecting skin conditions or wounds, mild anxiety, increasing cuteness
Wear Tip: The center chest seam is designed to be on the outside so your pup can enjoy maximum comfort.
Harness Help: These close fitting lightweight pullovers are designed to be worn comfortably under your dog's harness so there is no harness hole.
Style: The Sun Shield tees have the same great fit as our best selling Cozy Fleece Sweaters. Available in 6 colors and 5 sizes. Made in USA.
HOW TO MEASURE:
It's very important to measure to get the correct fit! The tees are sized by the girth measurement and your doxie's weight. Don't worry about the length. If the girth and weight are right the length will balance out. If you have any sizing questions, we're here to help.
Girth: With your dachshund standing on all fours measure the widest part of the chest directly behind the front legs. If your doxie has a deep chest the tee may be slightly shorter along the back as it stretches to accommodate the girth.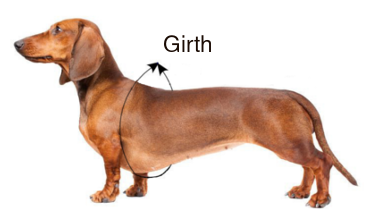 FIT GUIDE: Using the chart below find where your dachshund's measurements fall. If your doxie is in between sizes select by choosing the closest weight.
SIZING TIP: This fabric is exceptionally stretchy! If your dachshund is on the smaller side of the girth measurement we recommend sizing down. For example, a doxie with an 18" girth weighing 14 lbs would best fit in a size 12 instead of a size 14.

CARE INSTRUCTIONS: Machine wash warm, tumble dry low or hang to dry.
No hassle returns and exchanges! We all know dachshunds are notoriously hard to fit but you can order with confidence as we ship exchanges for free and cheerfully accept returns. Returns must, however, be in new condition to receive a full refund of the purchase price (less shipping).